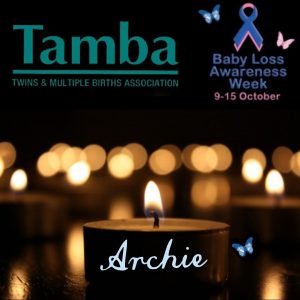 Last week was Baby Loss Awareness Week; this is an initiative led by various charities with the idea behind it being to offer support to those who have lost babies and also help banish the taboo of talking about them and that is why I am writing this post, not for sympathy or pity, but just to give an insight into the feelings surrounding the loss of a baby, both to increase awareness and just maybe help others who are going through something similar and may find my words relatable. I also get a lot of comfort by writing down my feelings. Obviously, in light of the events of the past year this is a subject that is now close to my heart, particularly regarding talking about the loss of a baby; I like to talk about Archie, he is my son and Henry's brother and always will be and I feel that talking about him keeps his memory alive. I think of Archie on a daily basis but with this week being at the forefront of social media and in the news it has made me reflect a little more than usual which, in my view, can only be a good thing, reflecting, reminiscing and crying are part of the emotional scars I now carry and, I believe, are all healthy aspects of dealing with grief. I read once that the scars we are left with following the death of a loved one are a testament of our love for that person and if the scars run deep then so does the love, this is so true and why I will now gladly carry these scars as they are now forever part of me. This week was important to me as often we get carried away with day-to-day life and taking time for reflection doesn't happen often. Due to a slight sleep regression on Henry's behalf lately I've spent a lot of early mornings during the week reflecting and reading various articles, while keeping myself awake for feeding, and although I appreciate the thinking time by Saturday I was left feeling a little sad and empty as I waited for 7pm to arrive to light our candle in remembrance. That's when I started to write this post and found the act of sharing my thoughts on this digital canvas made me feel a lot better.
I really like how the week culminated with the 'Wave of Light' on 15th October; families across the world took part by simply lighting a candle at 7pm to join together in remembering all babies that have died too soon, in recent years it has entered the digital realms with #WaveOfLight, encouraging people to take part by taking a photo of their candle and posting it to Facebook or Twitter using #WaveOfLight at 7pm. I thought of this as a hugely positive way of remembering Archie, uniting with other parents across the globe. It was also a significant date for my husband and I, as it was a year ago to the day that we found out we were expecting twins. It really highlights how much can change in a year but with all the miracles we were blessed with on those nights back in December last year, how can I ask for more? This morning I have been blessed with lots of smiles from Henry and despite awaking with a stinking cold I feel good, having had that time for remembrance, and immensely grateful for the beautiful boy currently snuggled up,  asleep in my arms.
Did you take part in #WaveOfLight? If so, feel free to share your stories in the comments below.
If you need support following the loss of a baby don't suffer alone, Sands (Stillbirth and neonatal death charity), is a good place to start or for twin-specific loss, Tamba's bereavement support group has been of great help to me.